Make a Will Month will take place province wide from 1st – 31st March. During this month, Bernard Campbell & Co. Solicitors will not charge for their will making service and you will be invited to make a donation to NI Hospice instead at your discretion.
The suggested donations are:
• £80 for a basic single Will
• £125 for a pair of basic mirror Wills
• £30 for an amendment to your Will (a codicil)
These costs not only represe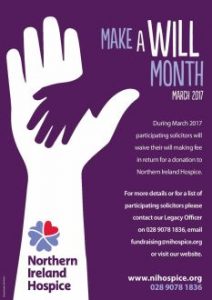 nt a significant saving for you but they would make a real difference to the life of a hospice patient. For example, amending your Will this month and donating £30 could fund one hour of specialist nursing care.